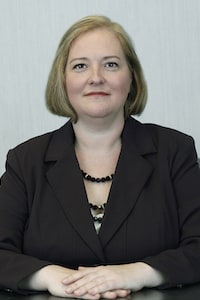 Karen T. Willitts, Esq.
Associate
Karen T. Willitts, Esq. was born in Orange, NJ in 1971 and grew up in Verona, New Jersey. Ms. Willitts graduated from Rutgers University in 1993, and obtained her J.D. from Rutgers University Law School in 1998. She was admitted to the New Jersey State Bar 1998. Prior to joining the firm in 1999, Ms. Willitts was law clerk to the Hon. Amy Piro Chambers, who was the Presiding Judge of the Civil Division in the Middlesex County vicinage. Ms. Willitts is a contributing author of the Yudes Family Law Citator, which is the foundation for an annual lecture series presented by the Institute for Continuing Legal Education (I.C.L.E.) and delivered by Mr. Yudes and a member of the judiciary.
Education
J.D., Rutgers Law School, 1998
B.A., Rutgers University, 1993
Jurisdictions Admitted to Practice New Jersey, 1998

Publications
Contributing Author, Yudes Family Law Citator.

Author, "The Violence Against Women Act: Continued Confusion Over The Scope of the Commerce Clause", Women's Right Law Reporter, Spring 1997.